Description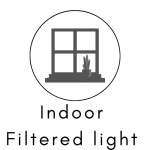 Ficus Pumila Icecap is a tough and adaptable climbing plant with small, attractive green foliage, capped with white.
Requires no support as it is self clinging, making it ideal for covering unsightly structures, exposed walls, fences and pergolas. It is also suitable for ground covers, hanging baskets and growing indoors.
Care
Thrives in a partly shaded position outdoors and a well lit position indoors. Prune lightly to maintain shape.